Healthy Fundraising USA™

"Healthy Fundraising for Healthier Kids"



Partners For Healthy Kids™, Healthy Fundraising USA™  and The Health Card™  are trademarks of Partners For Healthy Kids, Inc

© 2003-2005 Partners For Healthy Kids, Inc.   All rights reserved

Minimum Order 300 pieces. Choose your fabric color.

We have over 200 different fabrics to choose from.

You can use multiple combinations of colors at no additional charge.

Embroider your graphics on the front chest, back, and/or footpads of the bear.

If you don't have a logo or design, our design professionals can help you.

Design your own hangtag for your custom bear.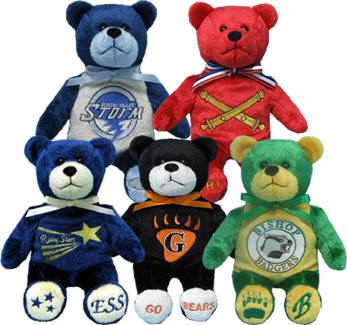 If you can't meet the 300 piece minimum for a custom bear, We can help you in designing your own custom hangtag to attach to the bears in our catalog. This allows you to personalize our products and still promotes your group, business, school, or organization

Our custom teddy bears and hangtags are excellent fundraisers for schools, charities, sport leagues, and other nonprofit organizations.  Companies use our bears as identity products at functions, seminars, trade shows, and for special customers.  Beary Thoughtful Custom Bears are an ideal advertiser for a company, web address, telephone number, and location.

Let us Design a Beary Thoughtful Custom Bear for You!

For Pricing and Further Details Contact us at: