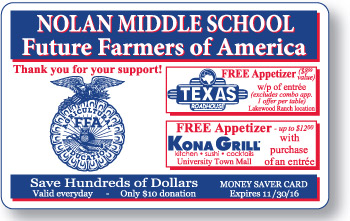 Our "Money Saver" Fundraising Discount Cards Fundraiser offering 50% - 90% profit is the number 1 and best fundraiser.  We Custom design your Discount Cards Fundraiser to meet your fundraising needs.  A Discount Card Fundraising program is easy and profitable and helps schools, churches, sports teams, non-profit, youth groups and more Fundraise in a simple, fun and profitable way.

HEALTHY & PROFITABLE FUNDRAISING

The Health Card™ and Money Saver Fundraising Card™, is a credit card size discount card offering hundreds of dollars of savings at local businesses.  It offers up to 
90% profit
 and gives non-profit groups a simple, time effective and positive way to raise money.  
Mouseover the card to see the back

Consumers who buy Fundraising Discount Cards benefit by saving hundreds of dollars while supporting their favorite fundraising groups and local merchants.   

Best of all, by using the card just one or two times, consumers will easily recuperate their $10 donation..

The Health Card™ and Money Saver Fundraising Card™ is a true Win-Win-Win program   It offers the very best in fundraising and is ideal for small or large groups. 

For more information Contact Us:

1-888-259-6876


"These cards are an awesome deal!   Anyone can save more than the $10 donation by using it only a few times.  I sold 45 cards!  This was an easy fundraiser!" 

-Kim Schwartzkopf 

50% - 90% Profit 

Save Hundreds of Dollars

Good for 12 months 

Simple, Fun, Easy Fundraiser 

We appreciate referrals.  Learn how you can earn extra money for yourself or your group.
"This year our Varsity and JV teams raised over $3,500!!!!! 

This was our best and simplest fundraiser ever!"        

-SEHS Volleyball